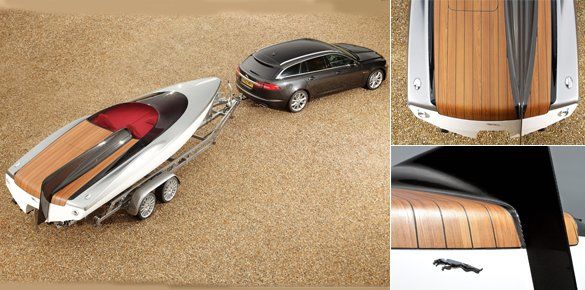 The iconic British brand Jaguar has created a speedboat concept to compliment their already established automobile styling. Featuring several of the classic Jaguar design hallmarks, this speedboat will be small enough to be towed behind your Jaguar yet still feature a two cabin, one head layout. At just over 20 feet, we can also expect some performance out of her which also lines up with the automobile manufacturer's style.
Forward, the bow of the boat seamlessly leads into the windshield for a super slick profile. She will be a fiberglass boat with the topside of the hull being finished in natural teak decking. The teak is split by a carbon fiber fin which is inspired by the Jaguar D-Type. Jaguar Director of Design, Ian Callum, said: "We recognize that both our existing and future customers enjoy diverse and active lifestyles. With the launch of the new Jaguar XF Sportbrake, we had an opportunity to create a vision of how our design philosophy might be applied to an alternative product, in which speed and beauty are also priorities. The Concept Speedboat looks powerful. It follows, in so many ways, the idea of a traditional speedboat but with the sleek and fast characteristics that you would expect from a Jaguar Car."
Although the concept has been developed, the company admits that it does not yet have any plans to build or stock such a craft.
For over 53 years Atlantic Yacht & Ship has been serving the yachting community. Our headquarter sales office is dockside at Harbour Towne Marina in the heart of the yachting capital of the world, Fort Lauderdale, FL. We are official distributors of Sunseeker yachts and our in house waterside service department provides official Sunseeker warranty work along with general yacht services. Whether purchasing or marketing a quality vessel, Atlantic Yacht and Ship, Inc. is your one stop resource for the highest quality service and sales in the yachting industry today.
If you are looking at yachts for sale, or thinking about selling your yacht, it is always wise to have an experienced broker representing your interests throughout the deal. Contact Atlantic Yacht & Ship at 954.921.1500 or click here.