On December 2 – 8th, 2012 charter yacht industry professionals from around the world will gather in Antigua for the 51st annual Antigua Charter Yacht Show. This year's show has been extended to cover six days and will again take place at the Nelson's Dockyard Marina in English Harbour, along with the Falmouth Harbour Marina and the Antigua Yacht Club Marina which are both located in Falmouth Harbour. The show has been consistently growing and is now known as the largest charter yacht show in the world. It is an excellent opportunity for charter brokers to experience the vessels in their charter environment with the boats in full display mode and the crews in presentation mode. Along with the intense indirect competition between boats, there is also an official chef competition for chefs to grab some additional bragging rights. New this year, the additional day, Saturday, will be a designated 'Day Sail' day offering management companies an opportunity to invite visiting brokers to experience a 'micro-charter' cruising Antigua's stunning coastal waters and islands aboard a choice of some of the finest charter yachts in the Caribbean.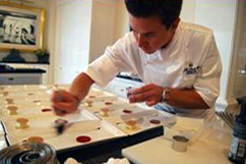 The Antigua observer quoted Paul Deeth, the chairman of the show, as saying, "About 2,000 people have come in directly for the show so we have about 300 of the world's leading yacht brokers. We then have another 300 people associated with that business and then, of course, we have all the yacht crew. We have 2,000 people here and 600 plus using hotels, guest houses, taxi drivers, laundries, varnishes…nearly everyone is full so the impact is enormous, it's obviously in the millions of dollars."
For over 53 years Atlantic Yacht & Ship has been serving the yachting community. Our headquarter sales office is dockside at Harbour Towne Marina in the heart of the yachting capital of the world, Fort Lauderdale, FL. We are official distributors of Sunseeker yachts and our in house waterside service department provides official Sunseeker warranty work along with general yacht services. Whether purchasing or marketing a quality vessel, Atlantic Yacht and Ship, Inc. is your one stop resource for the highest quality service and sales in the yachting industry today.
If you are looking at yachts for sale, or thinking about selling your yacht, it is always wise to have an experienced broker representing your interests throughout the deal. Contact Atlantic Yacht & Ship at 954.921.1500 or click here.